A spirit deeper than simple outrage over the continuing humanitarian crisis in the Democratic Republic of Congo pervaded the rally I attended yesterday, just three days before the inauguration of Barack Obama in Washington, DC. There were plenty of voices raised in protest of the terror rape, recruitment of child soldiers, and massacres of civilians that fill the headlines, but following those oft-heard verses was a chorus of something not often sung--one of hope for Congo.

In the rally in Lafayette Park and later during a conference held at Trinity College, demonstrators and speakers not only cried out for the end of the hostilities but expressed their belief in the future of Congo to achieve its potential as a vibrant, thriving state built not just on its mineral wealth but on the spirit and goodwill of its people. Is this the beginning of a movement?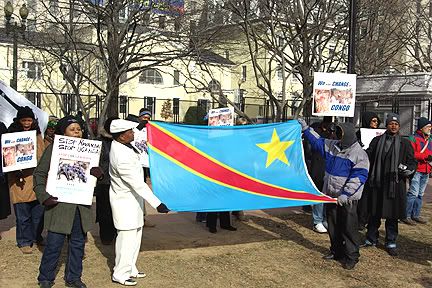 The event was sponsored by Congo Global Action, Friends of the Congo, African Faith and Justice Network and the Congolese Community of United States of America, in collaboration with Eve Ensler's V-day and Jackson Films, The Greatest Silence: Rape In The Congo.

Over 300 demonstrators marched and chanted in the bitter cold, with leadership passing back and forth in easy comradeship. In addition to many Congolese and friends of the Congo from Washington, delegations came from Atlanta, Boston, and New York, as well as guests and speakers from all over the world from Paris to Osaka. Despite the nose-numbing cold, the crowd grew as the event continued--and once there and caught up in the spirit, no one left until the absolute end.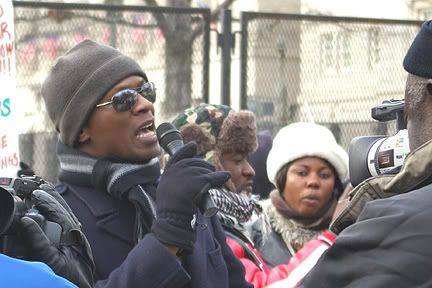 One of the most impassioned speakers for unity was the organizer of the NY delegation, Joseph Mbangu, who called for ethnic divisions and petty jealousies to be put aside for the greater good.



The keynote speaker in the afternoon was activist, playwright, and actress Eve Ensler, who decried the horrors of femicide, the use of gang rape and mutilation to terrorize the population and control conquered territories. The brutality tears apart the fabric of society, she said, and creates wounds that will last for generations.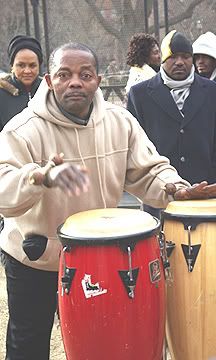 It was remarkable how many members of the diaspora knew each other. Friendship crossed generations and spanned years and thousands of miles of separation. Wrapping up the afternoon's activities was a rousing solo concert by Philadelphia drummer Bokulaka, who not only warmed up the crowd but brought the park rangers onto the scene. Their intrusion didn't damper the spirits of the group, however, and the rally continued peaceably until it was time to adjourn to Trinity College for the conference. I'll report on that event in later posts.

Dave Donelson, author of Heart of Diamonds a romantic thriller about blood diamonds in the Congo.