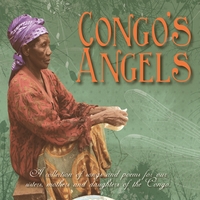 Women singers, songwriters, and poets are banding together to raise awareness about violence against women in the Democratic Republic of Congo (DRC). Grammy winner Irma Thomas, Americana singer Neko Case, and pop icon Susan Cowsill are among those donating tracks to a CD that will benefit rape victims in the DRC. The CD is titled Congo's Angels.

The effort is part of Congo Week, a worldwide outpouring of support for the many victims of the seemingly endless war in the Congo, where nearly six million people have died since 1998. As part of my contribution to the effort, I'll be holding readings from Heart of Diamonds at several venues that week.

Other contributors include Eliza Gilkyson, Caroline Aiken, Karen Protti-Bailey, Claire Holley, Kim Carson, Theresa Davis, Mary LaSang, Ruby Rendrag, Gospel Gossip, Sonia Tetlow, Herman Put Down the Gun, Karen Garrabrant, Dede Vogt, Caroline Herring, Janet Bean, and Leilani Rivera Bond. Earthshaking Records donated studio and production time for the mastering of Congo's Angels. A group of emergency room doctors in Brainerd, Minnesota donated toward the environmentally friendly packaging of Congo's Angels. CDBABY has waived their percentage of sales from Congo's Angels as a gesture of solidarity with Congo Week. The CD manufacturer, Oasis, has given a deep discount for the production of Congo's Angels.

You can purchase the CD at CDBaby. Carrie Crawford, Chairperson of Friends of the Congo pledges, "All proceeds from Congo's Angels will raise awareness, fund independent media, and support women and girls in the Democratic Republic of Congo."

Dave Donelson, author of Heart of Diamonds a romantic thriller about blood diamonds in the Congo.